Intense Pulsed Light (IPL) -- what is it and how is it performed?
The Spectrum Intense pulsed light (IPL) Machine has many features and is used to perform various skin treatments for aesthetic and therapeutic uses. IPL uses intense pulses of light of multiple wavelengths to treat various skin changes on the face, hands and neck. The technology utilizes a broad spectrum light-source, with a general spectral range of 400 to 1200 nm. Various cutoff filters are placed in front of the light-source to filter the undesired frequencies and allow the desired wavelength to target specific structures and chromophores in the skin.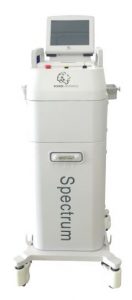 It is safe, non-invasive and is tailored to the individual patient's skin. The Spectrum IPL Destroys the primary target (Vessel, Pigment or Hair) by heating it to a high enough temperature without damaging the surrounding tissue.
How the technology works:
Specially selected wavelengths of light penetrate the skin
Target (hemoglobin, melanin) absorbs the light with minimal epidermal/dermal absorption
Light is converted to heat, destroying the vessel or lesion
Damaged tissue is removed by the body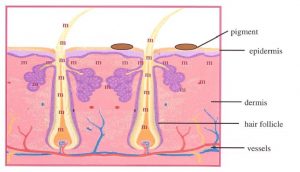 Patients typically have a series of three to six treatments, approximately one month apart.  Most patients experience a few days of redness and possible pinpoint bruising after the IPL procedure. Some brown spots may appear darker for a few days before peeling off.  Makeup may be worn immediately after IPL to temporarily conceal any resulting redness.
Most patients find that IPL gives them very satisfactory results and they return for "maintenance" procedures yearly or bi-annually.
Click to see actual results from IPL treatments:
Red spotty skin
Brown spots removal
Every patient's individual skin needs varies and not all skin types or pigmentation respond the same way to IPL. We invite you to schedule a consultation with one of our certified team members to discuss the right solution for your dermatological needs. If IPL makes sense for you, we can answer any other questions you may have and will go over pre and post procedure guidelines in detail.