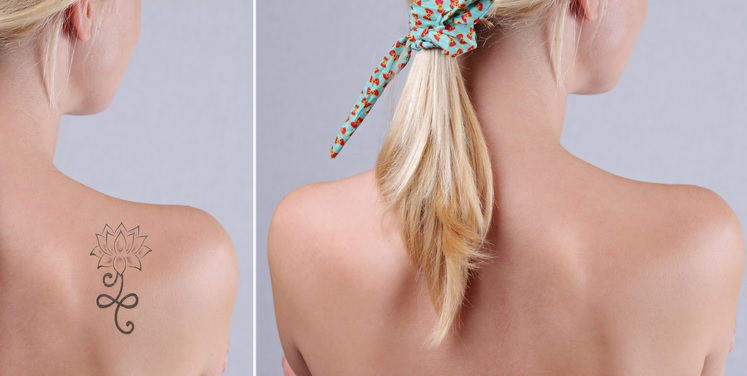 Laser Tattoo Removal
is the only safe and effect method of removing pigment from the skin while keeping the surrounding skin safe and free of scarring. Each tattoo removal is different. Singer Cosmetics uses state-of-the-art lasers for customized treatment plans for every patient and every tattoo.
How Does Laser Tattoo Removal Work?
The process of laser tattoo removal speeds up the natural fading of ink, which would take hundreds of years to fade on its own. With laser removal techniques, it only takes a few quick treatments. Using high-intensity photo-acoustic shock waves, the Spectrum Q-Switched Yag Laser shatters the tattoo ink into tiny fragments.
Depending upon the tattoo pigment, significant fading is attainable with five to ten treatments without the scarring. Our licensed and trained technicians space sessions several weeks apart to allow for maximal fading between treatments. The tattoo removal process occurs when very powerful bursts of light energy are applied to the pigmented areas of the tattoo. The energy is delivered into the skin and absorbed by the tattoo ink causing it to heat and shatter. The fragmented ink particles are then flushed away by the body's natural immune processes.
Occasionally, there can be temporary skin lightening at the treatment site which resolves within a few months. Laser tattoo removal treatments are fast and they create very minimal discomfort. Many patients have some redness at the site which diminishes over the course of a couple of weeks.

How many treatments will I need for tattoo removal and how long will it take?
The length of treatment depends on the size and color of the tattoo and typically varies from as short as a minute up to 15 minutes. Many factors affect how quickly and effectively a tattoo can be removed including:

Age of the tattoo
Quality and type of tattoo application (professional or homemade)
Ink color
Location
Skin type
Patient health
We look forward to helping you achieve the new skin look you would like.  Please be in touch so we can schedule your tattoo removal appointment.