Microneedling stimulates your skin's natural ability to produce new collagen and elastin for healthier, younger looking skin. This repair process is accelerated as microneedling creates microscopic channels, which allow products to penetrate into the deeper layers of the skin.
New collagen and elastin production can reverse years of sun damage, improve acne scars and enhance the overall appearance of aging skin.
One of the things our clients like most about microneedling is that it can be used on all types of skin for a wide range of problems. We use microneedling to address any area requiring cell regeneration or an intense repair process. Microneedling is extremely versatile and can be used on all parts of the body: face, neck, décolleté, arms, hands, legs, abdomen, and back. This versatility makes microneedling especially helpful when addressing skin issues such as acne scars and stretch marks.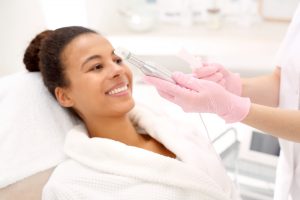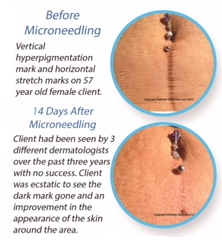 The entire procedure typically takes 60-90 minutes. We begin by applying a topical numbing agent that makes the procedure comfortable and pain free. The tool we use in our office is the state of the art Stratapen and we create a treatment plan that is unique to each patient's needs.
Immediately following the treatment, the skin will typically be red and there may be inflammation. This is expected and usually takes 2-5 days to return to normal. Your licensed aesthetician will recommend a simple post-procedural regimen. Once the redness and inflammation have abated, patients notice improvements in tone, texture, overall appearance and a noticeably healthier glow. The natural repair process of the skin continues to progress over the course of several weeks. Dermal collagen remodeling takes place over time and it will continue to improve for up to six months after your final treatment.
The course of treatment will be determined by your skincare professional in our office based upon your individual treatment goals and the health of your skin. Most of our clients receive a series of three treatments spaced about four weeks apart. If you have more severe skin issues, additional sessions may be necessary.
Call our office now for a consultation or to schedule your New Your appointment!