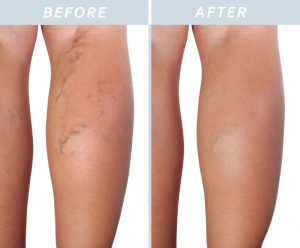 Common problems in adults, both spider and varicose veins are mostly the result of insufficient blood flow. They can cause significant fatigue, heaviness, restlessness, discomfort, aching, swelling or tingling. Many also find them cosmetically undesirable and they can lead to social embarrassment.
The most common location for symptomatic spider and varicose veins is the legs, while spider veins can also occur on the face. They differ somewhat from each other, although both can be successfully treated in our office.
Additionally, some patients present with unwanted enlarged, or obvious veins on other parts of their body, such as the face.
What kind of treatment is used to treat Spider Veins or for other Vascular Reduction?
Sclerotherapy is a method to eliminate leg veins, varicose veins, and superficial telangiectasias (spider veins) by injecting a solution, called a sclerosing agent, into the veins. The majority of persons who have sclerotherapy performed will see good improvement. It may be impossible to cause all spider veins to fade; improvement of 60% to 90% is usual with a full course of treatment.
The Long Pulsed Yag Laser, on our Spectrum laser machine, is another treatment option used on legs and on the face.  The Spectrum Nd:YAG laser penetrates through the skin and is readily absorbed by hemoglobin and melanin chromophores (veins and vascular lesions). The Laser light is delivered through the skin and into the vein. After heating, the vein walls collapse and seal shut. The sealed vein is then broken down and absorbed by the body.
The number of treatments needed to clear or improve the condition differs from patient to patient, depending on the extent of spider veins present. One to six, or more, treatments may be needed; the average is three to four. Individual veins require one to three, or more, treatments. Treated vessels will typically fade away over a period of six months.
Why Choose Leg Vein Sclerotherapy or Long Pulsed Yag Laser in our Office
Sclerotherapy or Yag Laser can enhance your appearance and your self-confidence. After each session, the veins will appear lighter. The procedures treat only those veins that are currently visible. Since it is not possible to permanently alter the venous system or prevent new veins from surfacing in the future, the team in our office will identify which veins to treat and how to follow your progress appropriately.
Choosing a provider who has adequate training in sclerotherapy and is well versed in the different types of sclerosing agents available is very important. Our qualified aesthetician  can help you select which type of sclerosing medication is most appropriate for your needs.
Before you schedule treatment for your unwanted veins, we will discuss all of the procedural details and the best options for your veins and skin.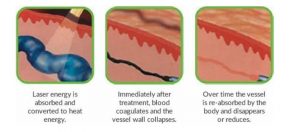 Click to see actual vascular reduction results:
Red veins on face
Red veins on nose