Laser skin resurfacing uses a highly concentrated beam of light to remove layers of skin in a precisely controlled manner to rejuvenate and tighten. Also known as a laser peel, it can be used on the face, neck, chest, and hands. Today's advanced laser technologies provide a new level of control during the laser skin resurfacing treatment, giving our patients excellent results, especially in delicate areas.

The laser tool we use for skin resurfacing at Singer Cosmetics is called The Erbium Laser on the Spectrum Machine.  It is a state of the art tool on the most advanced of machines. The Erbium Laser has a high affinity absorption for water. The top layer of tissue is dusted off or ablated. Heat is then put to the dermal tissue to stimulate collagen realignment.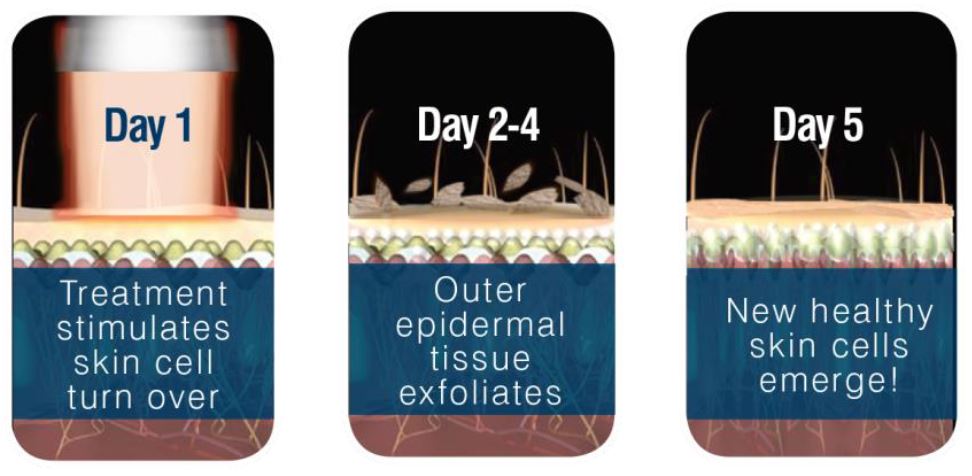 The procedure typically lasts 60-90 minutes.  At the start of the procedure, our technician applies a topical numbing agent, making patients very comfortable during the procedure.
Laser skin resurfacing at Singer Cosmetics can reduce the appearance of the following:
Photo-damaged skin
Brown spots
Sallow skin tone
Enlarged pores
Fine lines or wrinkles
Acne scars
How does laser skin resurfacing work?
Laser skin resurfacing uses precisely targeted beams of light to penetrate below the surface of the skin, removing the damaged outer layer while stimulating growth of new collagen fibers in the layers underneath. Prior to treatment, you may receive a local anesthetic to numb the treatment areas.
During treatment, as the laser moves across your face, you may feel heat and tingling. The entire process typically takes about 15 to 45 minutes, depending on the size of the treatment area. A resurfacing of the face, neck, and chest can take up to two hours. At the end of your procedure, a soothing, protective ointment will be applied.
Laser Resurfacing Recovery for Our Patients
Pre-treatment with a skin care routine is required. Following your procedure, the treated areas will be covered with a mild moisturizer, and you will be given a skin care routine to follow closely for the next two weeks.
Following laser skin resurfacing, many of our patients may experience a bit of crusting and swelling for up to three days. Within five to seven days, the skin becomes dry and peels.
Laser skin resurfacing has a recovery time of seven to fourteen days, and we recommend it for the face, neck, chest, or hands, depending on your individual skin type and needs. Once the skin heals, makeup may be used to conceal redness, which generally fades within three weeks. During the recovery period, you will need to wear sunscreen for protection, which we recommend anyway, but is particularly important during this time.
The new skin that forms following treatment will be smoother and firmer. During your consultation for laser skin resurfacing at Singer Cosmetics, you can discuss whether laser therapy alone will meet your cosmetic goals, or whether additional treatments such as BOTOX® or JUVÉDERM® XC would enhance your results.
Please be in touch to discuss your Laser Skin Resurfacing options.  We are ready and waiting to answer any and all of your questions!